In Ad Corner, we'll take a look at famous advertising campaigns. We'll analyze what they did and how we can apply those same principles to small business advertising.
Thanksgiving is right around the corner, so we're going to take a look at some fun and inspirational advertising with a Thanksgiving theme. From making you laugh to warming your heart, these five Thanksgiving ads are sure to inspire you as market your small business.
#1: Jennie O – Oven Ready Turkey
Jennie O's over-the-top ad shows a woman struggling to transport her oversized turkey from the sink to the oven. While it may not be the most realistic depiction, it's no secret that cooking a turkey can be challenging. Jennie O played on some relatable holiday frustration we've all felt before and positioned their oven ready turkey as an easy solution.
#2: Oscar Meyer – Carving Board Turkey Breast
From imposing guests to cooking mishaps, Oscar Meyer paints a clear and believable story about one family's Thanksgiving. It's funny and relatable, and it sets out to solve one of the day's problems by offering an alternative to cooking a turkey. Why worry about dropped birds or chasing your spouse out of the kitchen when you can use turkey that's been prepared in advance?
#3: Publix – Happy Thanksgiving (2014)
Publix steers away from the humor and towards the heartwarming with this Thanksgiving ad. They show multiple families preparing for and enjoying the holiday together while a soft narration gives cheers to different elements of Thanksgiving. It wraps up with a sweet and relatable sentiment: "Here's to the day that may not always be flawless, but it's always perfect."
#4: Macy's – Macy's Parade 101
In 2020, COVID-19 restrictions limited attendance at Macy's Thanksgiving Day Parade. To make up for some of the fun that people would miss out on, they shared this video explaining how to make parade balloons at home. It's a short and simple video that both children and adults can watch for some creative inspiration.
#5: Whole Foods & Progressive – Turkey Protection Plan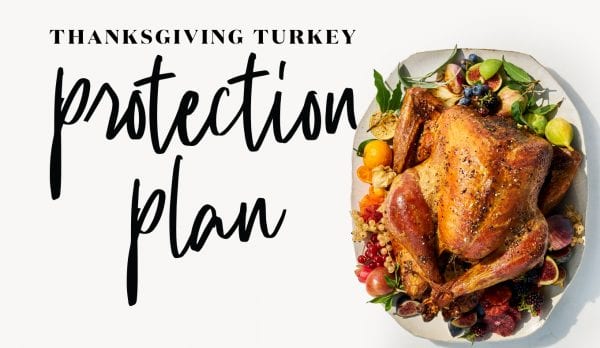 Whole Foods partnered up with Progressive Insurance during the 2020 Thanksgiving season and created the Thanksgiving Turkey Protection Plan. With the uncertainty of the pandemic, a lot of families opted for smaller gatherings and Whole Foods realized a lot of new-to-Thanksgiving cooks would be in the kitchen. They offered $35 Whole Foods gift cards to help cover the cost of any bird mishaps that may have happened.
What We Can Learn
Between these five different Thanksgiving ads, there are three main themes: humor, inspiration, and comfort. Both Jennie O and Oscar Meyer used humor and dramatized situations to highlight the struggle of cooking a turkey successfully. They offered their different products as alternatives to cooking a turkey in hopes of relieving some of the stress turkey cooking can cause. These are both good examples of how to make funny commercials that people can relate to and how to position your product so consumers see the problem it solves.
Publix sought to inspire viewers with a touching ad commemorating the holiday. By evoking warm emotions, Publix created a positive association with their brand and inspired their audience at the same time. Finally, the last two examples from Macy's and Whole Foods show how the brands were able to connect with customers even during the struggles of the pandemic. Conditions may not always be ideal for your business, but finding creative ways to work with what you have can make a good impression on your customers.
In Conclusion
At Bold River Marketing, we're thankful for you! If you'd like help with marketing your small business, give us a call. We can help you manage social media, create and run an SEO-friendly website, and promote your products or services through videos and photography.